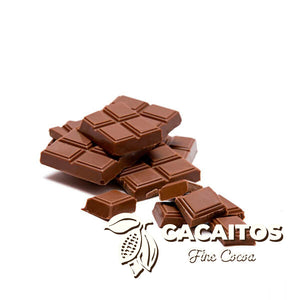 Coverture
Regular price
$52.00
$0.00
Unit price
per
Cacaitos' Coverture
Coverture 70% @ $52/kilo.
Choose among the fine cacao beans we have in stock and place your order.
Arauquita Bean
Complex yet delicate citrus, honey and nutty flavors between 91% to 94% fermented cacao beans.
Ariari Bean
Tropical fruits combined with molasses and rum flavors enhanced by 90% to 95% fermented cacao beans. 
Cubarral Bean
Notes of Andean berries and smoked flavors. Obtained from one strain heirloom cacao, 95% fermentation.

Chigorodó Bean
The terroirs crafted flavors on these cocoa beans to give a unique floral-herbal with tropical fruit notes. 90% fermentation.
Mceo Bean
Comes in flavors of fruity berries, spicy herbs, and sparkling pineapple flavor notes. Four different options: three heirloom cocoa Single variety and one blend.  90% fermentation.

---
Share this Product
---