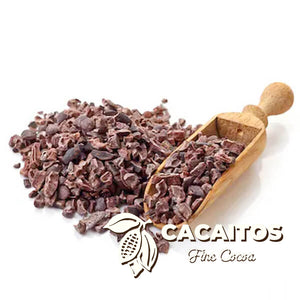 Raw Cacao Nibs (25 Kg Bags)
Regular price
$700.00
$0.00
Unit price
per
Raw Cacao Nibs

Wondering about fine flavor cacao nibs ready to use them so you start a bit ahead.
By default we supply them raw but please contact us for tailor roasting (low, medium, or dark) nibs made with our cacao beans.
The same flavors from our beans but roasting enhanced. Any cacao nib
Arauquita Bean
Complex yet delicate citrus, honey and nutty flavors between 91% to 94% fermented cacao beans.
Ariari Bean
Tropical fruits combined with molasses and rum flavors enhanced by 90% to 95% fermented cacao beans. 
Cubarral Bean
Notes of Andean berries and smoked flavors. Obtained from one strain heirloom cacao, 95% fermentation.

Chigorodó Bean
The terroirs crafted flavors on these cocoa beans to give a unique floral-herbal with tropical fruit notes. 90% fermentation.
Mceo Bean
Comes in flavors of fruity berries, spicy herbs, and sparkling pineapple flavor notes. Four different options: three heirloom cacao Single variety and one blend. 90% fermentation.
---
Share this Product
---